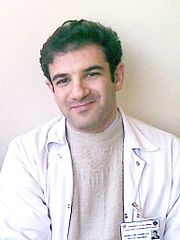 Profile
Nassim Halim Abi Chahine M.D. was born on 12 May 1977 in Amioun a central village in north Lebanon. He is the grandson of Halim Nassim Abi Chahine, who was one of the earliest Lebanese surgeons. He qualified from the Medical University of Lodz, Poland. He currently follows his family's legacy,  and has completed his residency in Neurosurgery in Saint George Hospital University Medical Center, Beirut Lebanon. In addition, he was a student of the renowned Professor Bogdan Goetzen, the Polish anatomist and neuro-angiologist.

Education
Completion of an 8 year residency program in surgery including a full length 6 years in neurosurgery at Saint George Hospital University Medical Center in association with University of Balamand.
Specialty diploma was issued on the 31st of December, 2010. A European Board Medical Doctor, qualified from the Medical Academy of Lodz and the Medical University, Lodz Poland graduating on the 24th of May, 2002.
Professional performance
– Neurosurgery assistant at the Central Military Hospital, Badaro Beirut since 2007. First registered surgical assistant at the Cold River War in 2007' summer at Hopital Al-Koura.
– Cooperated in educating medical and paramedical students in the Lebanese University, Saint Joseph University, University of Balamand, 'Lebanese red cross institutions and very soon Lebanese American University.
– Having more than 1000 medical professional post on the World Wide Web. Personal Citation in 169.000 entries on Google 2011
International congress communications
1- Brain Abscesses, June 2009
International

WALN

congress communication
Speech Maker
2- Unstable thoraco-lumbar junction fractures, June 2005
International

WALN

congress communication
Intellectual

possessions
1- Success of heparin use in intraventricular haematoma treatment, October 2009
Case report, International publication in the PAJN
First Author, Inventor and Promoter
2- Kyphoplasty, state-of-the-art, October 2008
Original article, International publication in the PAJN
Second Author
3- First global case of brain abscess caused by Kluyvera, April 2008
Case report, International publication in the PAJN
First Author
4- Dandy-Walker malformation: Surgical treatment of 17 cases, April 2008
Original Article, International publication in the PAJN
Second Author
5- A rare etiology of myelopathy: Spinal dural arteriovenous fistula, October 2007
Clinical study, International publication in the PAJN
Second Author
6- Spinal extradural arachnoid cysts, April 2007
Clinical study, International publication in the PAJN
Second Author
Areas of Expertise
a. Brain Surgery
- Tumors, all approaches

- Epilepsy surgery, all types

- Parkinson Surgery

- Bleeding management

- Malformations' surgical expertise (Arnold-Chiari, Dandy-Walker)

- Shunting, Hydrocehalus and ventricular derivations.
b. Skull and Face Surgery
- Skull plasty

- Para-orbital reconstructive surgery

- Facial neuralgias
c. Neck Surgery
- Cervical discs and instrumentations

- Vertebral and spinal/ Spinal roots tumors management

- Neck muscles surgery
d. Back Surgery
- Spinal Fistulas AVM and Dural Arachnoid Cysts

- Intra- and extra-axial cord tumors' surgical management

- Thoraco-Lumbar junction management

- Vertebroplasty, kyphoplasty and cementoplasty

- Instrumentations including transctaneous screwing and navigation

- Expertise in spinous spacers

- Cauda Equina, Filum Terminale and Tethered Cord Surgeries

- Myelomeningoceles repair

- Lumbo-peritoneal shunts

- Disc surgeries

- Sacral and coxygeal surgery
e. Stem Cells Transplantation for Neuroregeneration
- Adult Autologous Bone Marrow Derived

- Adult Autologus Peripheral blood Derived

- Adult Autologus Adipose Tissue Derived

f. Peripheral Nerve Surgery
- Grafting, transplantation, transposition and micro-suturing

- Peripheral nerves tumors' surgical management

- Liberation techniques

- Brachial plexus surgery

- VNS /Vagal Nerve Stimulation
g. Miscellaneous competencies
- Neurovascular bypass capability

Autologus Stem Cells Transplantation Ex-in-vivo Proliferation for:
- Amyotrophic Lateral Sclerosis (ALS)

- Anoxic brain damage and stroke

- Ataxia

- Autism

- Cerebral palsy

- Compression Myelopathy

- Cranial nerve injury

- Dementia, including Alzheimer

- Diabetic Neuropathy

- Epilepsy

- Huntington's disease

- Leukodystrophy

- Myelopathy

- Myopath, some types

- Multiple Sclerosis (MS)

- Neuro-ophtalmologic diseases

- Parkinson Disease

- New Spinal cord injury

- other Spasticity's and movement disorders
Membership
- Member of the Walter E. Dandy Neurosurgical Society.
- Moderator of the 'MedHelp International Neurosurgery forum'.
- Member of WALN, the World Association of Lebanese Neurosurgeons.
- Cofounder of the WALN-Young Neurosurgeon Committee.
- Member of the 'Lebanese Society of Neurosurgery'.
- Member of the wikiproject Lebanon, writing about Lebanon's people and scientists.
- Elected Residents Representative at Saint George Hospital Beirut in 2006 and 2008.
- Member of the The Resident Teaching Committee at Saint Georges Hospital Beirut.
- Member of the "Hospital Profession's Secret Committee" at a Hospital (CHN)
Conventionalities
Scholar Health Proficient, examining generally 700 children of all ages yearly (2008 – Present)
Neurosurgery Assistant at the Lebanese Central Military Hospital, Beirut (2007 – 2011)
Didactic Activities
Teaching Professor at the Faculty of Medicine, Institute of Physiotherapy,
Saint Joseph University Beirut – FM Jesuite Beirut (2008 – 2011)
The Latest in Neurology
The Neuromuscular Physiology
The Neuromuscular Pathology
Visiting lecturer at the Lebanese Red Cross institutions.
Anatomy (2009 – 2011)
Geriatrics (2009 – 2010)
Education during postgraduate years at Saint George Hospital Beirut:
Teaching Chief resident in clinical skills (2006 – 2008)
Teaching Senior resident in surgical skills (2009 – 2010)
Lecturer at the in-service nursing program (2005)
Coordinator of The annual conference and demonstration "Surgical knots, sutures, stitches, needles, instruments, incisions and wounds healing" at SGH (2004 – 2009)
CME and  other Diplomas
Certificate of Competency
Advanced life support, The Lebanese European Academy of Emergency Medicine 2010
Certificate of Appreciation
Boston University, Society of Progress and Innovations at the Near East, Bio-skills 2009
Certificate of Attendance
European Stroke Conference, Barcelona 2010
Certificate of Training
Zeiss NC4 Neuro-Ophtalmic microscope, Lebanon 2008
SteriStrip-S workshop, Jordan 2007
Achievements
Assistant at the first neural stem cell implantation done in Lebanon, on
01 Sept 2008, under supervision of Professor A.Nachanakian with transplantation
of the olfactory mucosa in the injured cord. It was the first worldwide stem cell transplantation done to a child days after a penetrating bullet
with trans-section and burning of the cervical spinal cord.
Inventor and introducer of a new method for intra-ventricular
hematomas treatment; a life saving procedure in repetitive external derivation
closure. Results and Methods of this new management were published in October 2009. (Pan Arab Journal of Neurosurgery 615 – AOC Draft + Queries 25.5.09.pdf).
Creator of "Posterior Dynamic Stabilization" the clinical study
done on Coflex(TM) of the spine. Published in The Pan Arab Journal of Neurosurgery, Volume 14, No.1, and April, 2010.
Writer of "Hypoglossal-facial anastomosis, trades and tricks" the
clinical study done on XII-to-VII cranial nerve anastomosis, published in The
Pan Arab Journal of Neurosurgery, Vol. 13, No 1, pages 20-23, April 2009.
Winner of the WALN-Traveling Grant funding a Fellowship in Functional
Neurosurgery in the NHNN the National Hospital for Neurology and Neurosurgery,
London UK.
Introducer of the 'ideal application'; the patients' management system at
St George Hospital Beirut. A computerized program built on a matrix of Oracle
software, a basic step toward the paperless hospital.Bottom of Form
Extracurricular activities
Planner of the monthly Lebanese healthcare day in the most difficult areas.
Author of many health articles in Arabic and English languages;
Hibr; http://hibr.me/issue7/OCD – "Obsessive or just supper clean?"
Health and Nutrition Magazine, Meap publishers, Dubai.
Laha magazine, www.lahamag.com
Proficient of the EIS-Electro Interstitial Scan, a biofeedback device, manufactured by LD TECK Miami Florida, the human body screening device is a sophisticated version of the Electrosomatogram.
Concerned in Physiognomy, Anthropology, Hypnosis and the insufficiently defined sciences and by the combination of physics with biology. Supporter of the Hyperbaric Chamber.